CNC Turning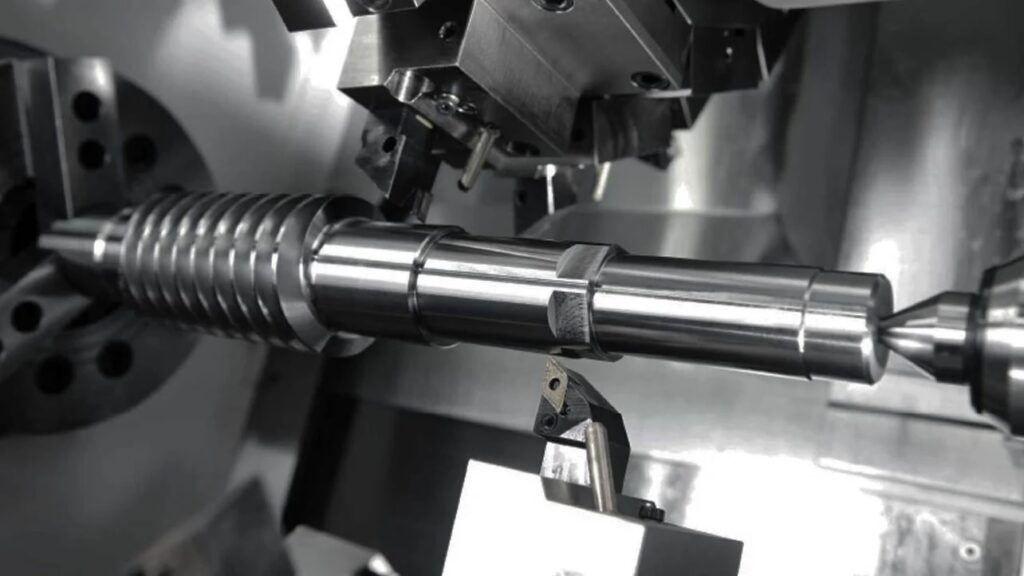 Many people interchange the milling and turning, thinking that they are the same process. While both of them have the same goal, the entire process on how it's done and what the procedure is is different. As a matter of fact, turning is a lot different from milling from the machine that is used alone.
But how is turning different form milling? Both of them are for the reduction of the part, component, or the material – so how do they differ?
What is Milling in Manufacturing?
Milling is a process that reduces the thickness and the overall girth of a certain product or component. It utilizes a milling machine (can be manual or CNC) and the material that is being worked on stays put in place.
The cutter is the one that's rotating in the process of milling. It's like cutting a portion off of the edge of using drills and other types of cutting tools.
What is Turning in Manufacturing?
From its term, it also involves the rotation but in this process, the one that's rotating is the material being cut. Similar to milling, the edges of the material are shaved off and it's mostly used in the creation of accurate slots, slits, holes, threads, and the like.
Akin to milling, turning machines can also be manual or CNC – and of course, the one that's better is the latter.
So if you need high-quality CNC turning, you can definitely count on us here at Kentucky Contract Manufacturing Technicians. We are the company that has been providing quality fabrication and manufacturing processes and procedures to our clients whatever industry they might be in.
Do You Need CNC Turning?
You might think about you not needing CNC turning even if you're going to outsource and have it completed and manufactured by a different company. So how do you really know when you need CNC turning?
Before digging deep into the reasons, here are some of the few questions you need to ask yourself for you to determine if CNC turning is for you.
How many products do you need?
When is the deadline for all of the products you need fabricated and manufactured?
What quality are you expecting from the operation?
Benefits of CNC Turning
So how can CNC turn to be an advantage to manufacturers and fabrication companies? From your perspective, how can it help and assist you for you to have and to fabricate better and higher quality outputs?
Turning is rather a complex and complicated process. It's not just the idea of reshaping or reducing the shape of a certain product or component; it's more of like art that involves the complete enhancement and development of a certain product.
But if your products and composites are turned via a CNC machine, everything will be easier and better. As a matter of fact, CNC turning does not necessarily require experts and engineers to do it – regular people can but with the use of accurate and precise pre-programmed software.
Using a CNC turning machine can help you drastically when it comes to the turnaround of a certain project. Can you rely on a manual CNC machine if you need to produce more than 5,000 products in a single month? You would need more than a hundred people for that – are you willing to pay the price?
With CNC turning, you will be able to produce higher amounts and quantities of the products and components you need.
Of course, the art of people is still distinct from the uniformity that machines and robots do but if we were to talk about quality, it would be a matter of uniformity and being constant. If you process your production via CNC machines, you can expect uniform and unchanged precision and accuracy from what your products and outputs are.
So what you're producing today will be 99.99% exactly what you will be producing and manufacturing tomorrow.
Our CNC Turning Machines
Over our years in service, we have invested a lot in the machines and the technologies we use in the manufacturing business. As a matter of fact, all of our clients commended our technology, saying that ours was the best they have ever seen in their search for the best fabrication company and manufacturer.
Kentucky Contract Manufacturing Technicians is a company that has made the correct and the right types of investments and we're proud to be producing only the highest quality of goods, products, materials, parts, and components.
Is Turning Important?
If your product needs a final cut or shaves from its original and current state – then yes, you would need turning. Turning it instead of manually cutting or reducing it is more accurate because you will easily notice the imperfections with its continuous roll.
Turning is important if you are looking to land at the best, the most accurate, and the highest quality of products and parts. With CNC turning, you can exponentially increase the amount of the production you have while not compromising the quality.
What You Need
Work with us because we can guarantee that we're everything you need. We're not just a company skilled in terms of the subtractive manufacturing processes, you can work with us if you need help in terms of powder coating and other forms of finishing too!
Kentucky Contract Manufacturing Technicians is your full-service, complete-package company that you can count and bank on if you need accurate and precise results for all the processes and procedures you need.
We have teams of experts, professionals, and even designers who can suggest and provide their thoughts about the product and about how your product is going to be. The next time that you need a company that you know you can trust and consider as your business partner – give us a quick call here at Kentucky Contract Manufacturing Technicians.
We're the state's best company when it comes to manufacturing and metal fabrication and you will never feel the need to look for another company ever again!
You will never really have to look for anything else with us here at Kentucky Contract Manufacturing Technicians! We're your complete-package, full-service contract manufacturer and metal fabrication company!
Our core offerings and services at Kentucky Contract Manufacturing Technicians includes, but is not limited to, the following below:
We service multiple cities throughout the state of Kentucky. We provide all the services listed above, and much more in every city throughout Kentucky.
If you don't see your city listed or a specific service listed, don't worry. All you have to do is contact us by either giving us a call or filling out our online contact form. Then we'll discover what are some of the top solutions for you, your business, and executing a solid solution.
See our city areas of service: