Fabrication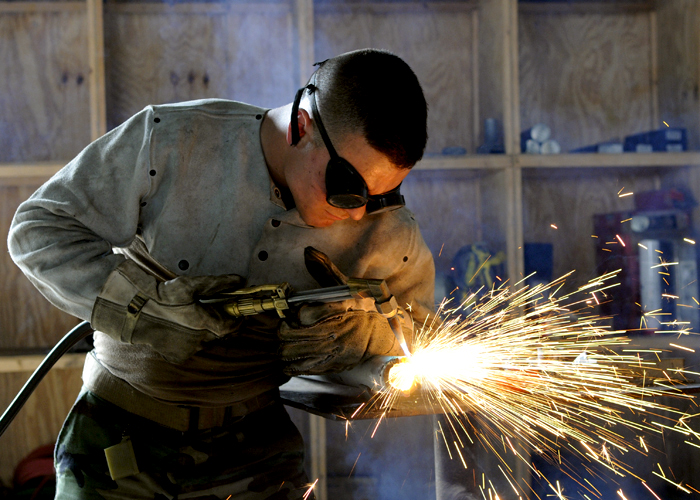 The manufacturing industry has evolved into a large state that a lot of different services, processes, and companies have been born. Fabrication, or the process of creating, assembling, and producing a product from different working assemblies to a piece of equipment or a semi-finished part.
But do you actually know what fabrication is? Are you aware of what it does, how it's done, what processes and methodologies are involved?
What is Fabrication?
Fabrication can be anywhere from producing a wide range of products like formed sheet metals, plain sheet metals, to different parts of cars, aerospace parts and components, and many more. Fabrication involves the process of constructing products by fusing or combining different and standardized parts.
Many people confuse fabrication and manufacturing – thinking that they're both the same. Though most of the time, they have the same goal (and that is to produce), they're different – so how do you distinguish the one from the other?
What is Manufacturing?
Manufacturing is defined to be the process of releasing, producing, or procuring goods and other materials, components, parts, and equipment. It is known as the process of converting raw materials and parts to a finished or semi-finished product.
More often than not, manufacturing is done in a large scale where 100 production units are considered few. Whether you need manufacturing or fabrication – you can count on us here at Kentucky Contract Manufacturing Technicians to help you with any of it!
Fabrication vs. Manufacturing
So are you now aware of how the two processes are different? Do you already know how you would distinguish them? To make it simpler for you fabrication is the process where something is formed through combining different raw materials, components, and parts.
Manufacturing is the creation of those raw materials from scratch. To give you a more concrete and clearer example, let's say that an automotive company is looking to create the body of a certain car and they need quite a few of them.
The automotive company would need to import parts from a European "manufacturer" for the sheet metals and some of the glass needs it has. Then, you contact a "fabrication company" to help you in the combining and the fusing of the semi-finished parts, as well as those that are finished to finish 70% of the car's exterior.
Fabrication Process
The fabrication process that we have here at Kentucky Contract Manufacturing Technicians is actually simple. As a matter of fact, it involves a lot of different processes but is pointing and coming from the same roots and have the same goal.
Metal fabricators start by bidding on certain jobs by submitting the draft, drawings, as well as the processes that they're going to do to produce the output you need – everything starts from there. But we are considered as the best not because we're always chosen and picked by clients, but because of the versatility of our skills and expertise.
When we're chosen, we then proceed to the following steps for the fabrication process to take place:
Material Choosing – the material that is to be used in the process is selected and is deliberated.
Decision of Services – we will check and distinguish whether or not we'll be completing the work ourselves or we're going to tap other manufacturers with some of the parts and components.
Fabrication Processes – when finished, we then move forward to different procedures like cutting, casting, forming, press brake bending, even finishing and assembly.
Products and Outputs Inspection – every product that comes out of our types of machinery are checked and are inspected to ensure that they're at their best and their highest quality.
We're the Best in Fabrication
Kentucky Contract Manufacturing Technicians is a company that many people and clients have considered to be the best in terms of fabrication. Why? Because of the following values that we strictly follow:
Many clients have commended us with the honesty and the transparency traits we have in all of our work. We will give you the most reasonable and the most feasible timelines for certain projects and we will do whatever we can to accomplish that.
We can be honest and transparent with everything you need!
We are the company that treats your business or your production as our priority – we think of it as our business, too. You can count on us to value your work the same way we do and that is how we're able to do all good things like meet deadlines, produce the best quality of outputs and products, and the like.
Our investment in the industry has proven the effectiveness and efficiency of our work. From the specialists and the experts we have invested in, the advanced machinery and equipment, down to the office and the workplace that we have.
We will persevere and work hard to help you and your company achieve the quality you need in the fastest time possible.
Why Work With Us?
Kentucky Contract Manufacturing Technicians is the fabrications company who you can trust to complete, daring, and cohesive steps and procedures to produce the materials, components, parts, and equipment that you need for your project, business, or for your manufacturing process as well.
We can provide a wide range of services for you and your business and you can absolutely count on us to help you with anything from the cutting, the bending, the finishing – even the assembling of your parts and components.
We're your overall fabrication company capable of producing any type of metal product you need. It doesn't matter how simple or how complex your requests might be – when you tell us to get it done, we will help you get it done.
With the help of the experts, professionals, and the machinists that we have here at Kentucky Contract Manufacturing Technicians, all your requests will be given to you and your problems will all be answered!
Call us now and get a free quotation for the fabrication you need!
You will never really have to look for anything else with us here at Kentucky Contract Manufacturing Technicians! We're your complete-package, full-service contract manufacturer and metal fabrication company!
Our core offerings and services at Kentucky Contract Manufacturing Technicians includes, but is not limited to, the following below:
We service multiple cities throughout the state of Kentucky. We provide all the services listed above, and much more in every city throughout Kentucky.
If you don't see your city listed or a specific service listed, don't worry. All you have to do is contact us by either giving us a call or filling out our online contact form. Then we'll discover what are some of the top solutions for you, your business, and executing a solid solution.
See our city areas of service: