Sheet Metal Bending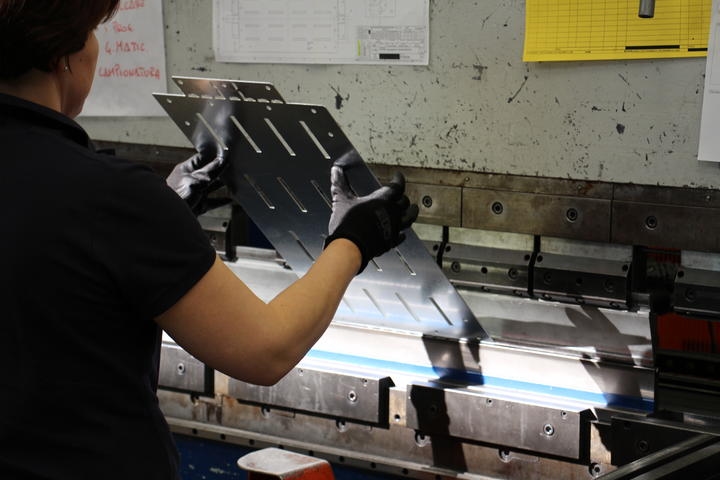 One of the most common processes and procedures in manufacturing and in metal fabrication involves the process of bending steel, or more commonly known as "sheet metal bending." This procedure is when a client or another manufacturer would need a metal sheep reshaped and reformed, for it to arrive at the exact design that the clients need.
Bending sheet metal is a vital and crucial part of manufacturing because it's what provides the shape or the form of a certain flat surface. The bending, just like how it's regularly made, is a product of force – the force of types of machinery and equipment like sheet metal benders and press brake machines.
We here at Kentucky Contract Manufacturing Technicians can help you with the sheet metal bending procedure you need with the use of our CNC press brake machines. But before we go into the bending part, why are sheet metals and metal sheets important in manufacturing and in the metal fabrication industry?
What is a Sheet Metal?
Sheet metal is like the cell of the body – it is the basic building blocks of construction, industrial, and even the medical industry equipment. It's mostly, if not always, the material from which all metal equipment is made of.
From your regular construction and structural industry equipment, medical supplies like MRI equipment, x-rays, and so on, and even industrial and manufacturing equipment like presses, millers, turners, and the like.
With that information, you already know that without sheet metal, all these other equipment would not come to life. So if you are in need of a company that can help you in the bending of sheet metal, you can work with us here at Kentucky Contract Manufacturing Technicians.
Not only can we produce the best, the most polished and finished, and the sturdiest of sheet metals, we can also help you in terms of forming and bending them.
Sheet Metal Bending Types
Contrary to popular belief, the process and the procedure in sheet metal bending is not only limited to just one process. Akin to how other manufacturing processes are performed, sheet metal bending also has many different types and procedures.
The most common of which is the V-Die or V-Shaped sheet metal bending. It is the type of bending where the punch applies the force to the work material which is on top of the die and the empty space of the die would be the shape or the form it would take up.
Other than the V-Shape bending procedure, there are other types of metal sheet bending including:
Rotary Sheet Metal Bending – Uses a rotating die which would force the metal to the space of where the die is;
Wiping Die Edge Bending – This procedure involves a pressure pad on top of a workplace and the wiping die applies force to reshape the workpiece to the edge of the die, forming the bend;
Channel Bending – This involves a punch with the force going downward forming the shape of a channel-shaped die;
U-Bending – Similar to the Channel Bending procedure, U-Bending involves a channel-shaped die. The difference is that the punch used in U-bending procedures has a circular end, forcing the workpiece to be bent with around angle.
Air Bending – This type of bending involves two separate die points and the punch is pushed through the workpiece and it does not catch on something; hence the term "air bending."
Those are just some of the most common types of sheet metal bending procedures and processes – there are a lot more. With our help here at Kentucky Contract Manufacturing Technicians, we'll be able to help you with whatever shaping you need for your sheet metal.
The common industries and businesses we work with include the medical industry, the manufacturing industry, the commercial industry, and even the structural or the construction industry.
We Have the Best Press Brakes
Kentucky Contract Manufacturing Technicians have multiple press brakes that can all accommodate work simultaneously. That is the reason why you can count on us if you need mass production of your metal components, parts, and equipment; or if you only need regular small batches and low volume production.
We have a combination of CNC press braking machines and those that are manually operated, giving you the type of accuracy and precision that you need for your products and your outputs. So if you're not sure about what your manufacturers are using, you can be confident that all we're using are high-quality press brakes.
Choose Us For the Best Results!
Can't find the right and the most reliable manufacturer that can drastically help you with the sheet metal bending activity you need? You're just on the right page – many companies and manufacturers have trusted us and our procedures; from the single processes that you need in metal fabrication and contract manufacturing, to the entire start-to-finish types of projects, we're the best you can count on!
Work with us in order for you to experience world-class quality sheet metal bending at a price that's just right! With Kentucky Contract Manufacturing Technicians, we'll be able to help you form, shape, and bend even the most stuffed and the most rigid of sheet metals.
You can place your full trust in us just like how other companies have – and we will always be prepared for whatever project you need.
Fast and Urgent Delivery!
Do you need a project with a week-long deadline? Don't worry, we got you! We can prioritize your work without ever scathing the quality of the products that you are looking forward to! You can work with us if you need days for the deadline and we can accommodate your request no matter how simple or complex your products and your outputs are!
Many businesses and manufacturers have commended us not just for our speed but also for the accuracy and the exactness of the measurements that they needed. Whether you need the sheet metal bending for automotive, for aerospace, or for medical equipment – we're just a call away!
You will never really have to look for anything else with us here at Kentucky Contract Manufacturing Technicians! We're your complete-package, full-service contract manufacturer and metal fabrication company!
Our core offerings and services at Kentucky Contract Manufacturing Technicians includes, but is not limited to, the following below:
We service multiple cities throughout the state of Kentucky. We provide all the services listed above, and much more in every city throughout Kentucky.
If you don't see your city listed or a specific service listed, don't worry. All you have to do is contact us by either giving us a call or filling out our online contact form. Then we'll discover what are some of the top solutions for you, your business, and executing a solid solution.
See our city areas of service: