Powder Coatings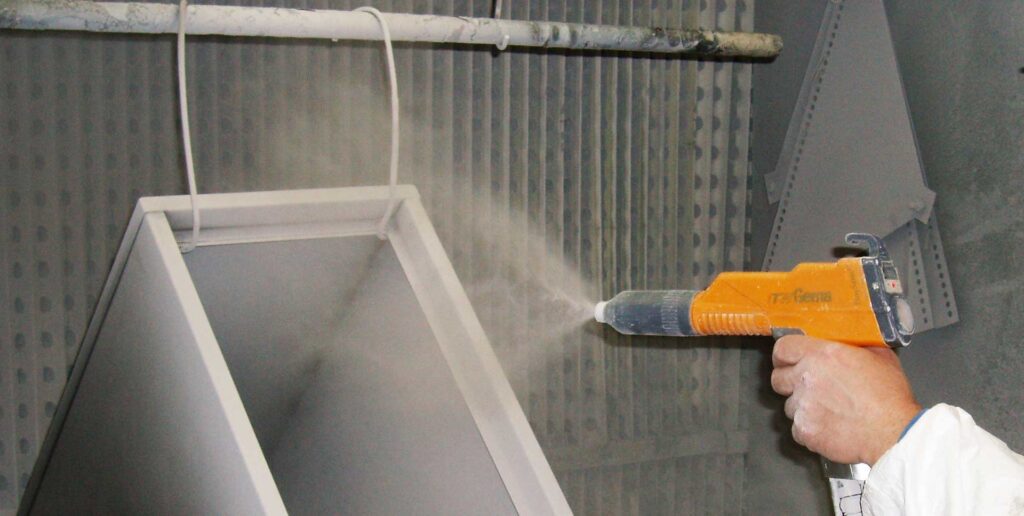 Many people underestimate the importance and the benefit of finishing a product. In fact, most people see it only as a way to improve the aesthetics of a certain material or component, when in reality, it's actually more than just the "looks."
But how can the finishing process improve the overall condition of equipment and some other products and parts? Can this process make certain products better?
What is Finishing?
Finishing is defined to be any type of operation that would improve and modify the exterior of the surface of the product or the workpiece they've been working on. This process's goal is for the workpiece to result in a certain property – it can be for the looks and the attractiveness of the product or the material, or it can be for the durability and its strength components.
Different Finishes
Certain properties have differently finished – wood has its own, plastic has its unique finishes – and metal has its own too. We here at Kentucky Contract Manufacturing Technicians can help you with any type of metal finish but we are commended and recognized to be the manufacturer who can complete finishes beautifully – powder coatings to be specific.
Other than powder coating, some of the finishes we are able to do includes:
Sand Blasting
Metal Plating
Metal Grinding
Buffering
Buff Polishing
Powder Coating
And Many More
In our company, we are able to provide the best powder coatings on all types of material from formed sheet metals, rolled sheet metals, and many more.
Our Powder Coatings
The powder coating finishes we offer consists of us concocting a specific formula in helping you achieve the look and the durability you want for your material. We utilize different components and chemicals like epoxy, acrylic, TGIC Polyester, and many more.
When you ask for our powder coating service, you can be given the guarantee that:
Your materials and your components will be more beautiful and aesthetically pleasing
Your products would be more durable and more versatile
Your products will not corrode easily
Your products and materials will all be free from premature rusting
Those are just some of the benefits that our powder coatings can offer – so if you are thinking of finishing your fabricated or manufactured products, you can work with us here at Kentucky Contract Manufacturing Technicians.
We Work From A-Z
Across the entire plain of Kentucky, we're the company that has been entrusted with some of the most crucial and the most vital pieces of materials and components. From the cutting and bending process, the casting and forging – even in the welding, the milling, and the turning, we are their go-to company.
Over the course of our services, we have been deemed to be the most relevant and the most helpful manufacturer in the state – servicing a wide range of businesses and industries that many other companies and manufacturers are not able to.
We help all industries that need metal finishes for their components and their parts – from the car and automotive industry, the medical industry, construction, and even aerospace and the Science industry. We are a company that can help you provide beautiful powder-coated finishes for your products.
Why You Should Go For Powder Coating?
There are other methods of finishing, so why should you go for powder coating? What does powder coating have that other types of finishes don't? Other than the fact that it's the most advanced and it's the fastest, powder coatings can help and benefit you through the following ways:
In comparison to sandblasting and liquid coating finishes, powder coatings do not have solvents in them, decreasing the threat or the danger of your workers developing eye, skin, and mouth irritation. When the liquid comes in contact with the eyes and the nose, it's quite difficult to remove.
However, when the powder is exposed, it can easily be washed away with running and continuous warm water.
The creation of the formula that would be used in finishing your materials and your products via powder coating is actually a lot less expensive than what you would be spending when you perform liquid coating.
Furthermore, powder coating would not require more warm air which can save you money in terms of heating them.
With most of its chemicals and components being environmentally friendly, you do not run the risk of messing the environment up with powder coating. Comparing it to the solvents used in liquid coating, it's less dangerous and it actually promotes the health and the overall green condition of our surroundings.
Imagine this scenario: the liquid coating that you're using would require you to clean the applier of the wet paint, as well as the container of where it is. When you use a sprayer or a spray booth for powder coating, it's easier and a lot more efficient when you are to clean it.
Some, if not all of the components and ingredients in powder coating are all towards the idea of making your products and your components stronger and more durable. You will never have an experience of it breaking because the paint or the coating wore off – its effects are going to be better, stronger, and even more physically-pleasing.
If you are looking for a way to finish your materials, why not make it with us here at Kentucky Contract Manufacturing Technicians? We are the company that has been considered as the best manufacturer in the industry because of the entire processes we indulge in.
From the regular cutting and welding – to the forming, finishing, and assembly, no other manufacturer comes close to the quality of services we are offering. Aim for your products to be better, much more durable, and longer-lasting!
Give us a call and we'll get you the estimate you need for the products you need to be finished and done!
You will never really have to look for anything else with us here at Kentucky Contract Manufacturing Technicians! We're your complete-package, full-service contract manufacturer and metal fabrication company!
Our core offerings and services at Kentucky Contract Manufacturing Technicians includes, but is not limited to, the following below:
We service multiple cities throughout the state of Kentucky. We provide all the services listed above, and much more in every city throughout Kentucky.
If you don't see your city listed or a specific service listed, don't worry. All you have to do is contact us by either giving us a call or filling out our online contact form. Then we'll discover what are some of the top solutions for you, your business, and executing a solid solution.
See our city areas of service: