Spot Welding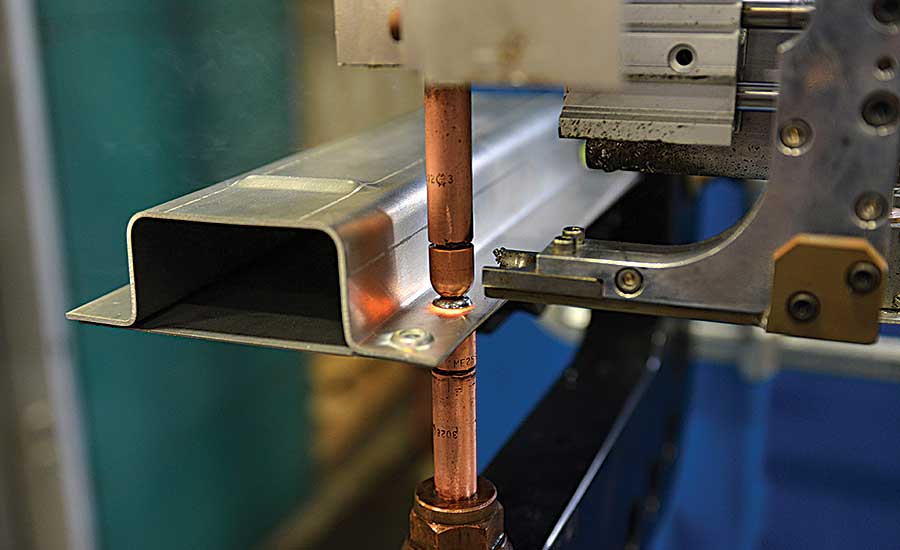 Spot welding is the type of welding you need if you are looking to cross and overall certain sheet metals to join. It is the welding that you would want to perform if you are looking to join large surface-area workpieces as it utilizes resistance and heat at the same time.
If you're not in the know, spot welding is one of the oldest and the most traditional methods of welding. In the earlier days, spot welding involved combining two (2) or more metal sheets to be welded together – and it usually does not include filler material in the welds.
So How Does Spot Welding Work?
Spot welding is simply the process of applying pressure onto the two or more pieces that are being brought together. Heat is then applied to a specific area and instead of it being the main thing that holds them, it's a combination of resistance, pressure, and heat.
The idea of fusing is the same – the heat that is emitted from the electrode melts the material and then is cooled for them to fuse. However, the good thing about spot welding is it's backed by pressure and resistance.
Need a Spot Welder?
Do you have a need for a spot welder for your manufacturing or for the production of the materials, components, and the parts you need? You can trust us here at Kentucky Contract Manufacturing Technicians for it.
Across the entire state of Kentucky, we have been considered by many businesses and manufacturers as their go-to whenever they needed help with metal fabrication – and more importantly, with spot welding.
But why would you need spot welding in your products or your materials? How can this type of welding help you?
Why Spot Welding?
Spot welding is the process done in combining and fusing together two (2) metal components that have a large surface area. Nevertheless, here are some of the most common reasons why you should pick and choose spot welding over other welding types and procedures.
With the combination of force and heat, you can be given the guarantee that spot welding is more accurate, stronger, and it's more durable than the welds that only rely on heat and melted materials. With pressure involved, you would not be doomed with the fear of thinking about whether or not it's going to pull through.
All of the personnel and staff members we employ here at Kentucky Contract Manufacturing Technicians are all experienced and well-trained in the industry. They've amassed decades of experience and you'll never have any type of problem when it comes to working with them.
However, spot welding is so easy that it can be completed and accomplished even by a worker who held a job in welding for the first time.
Unlike other welding techniques and methods, spot welding is a type of welding that can be done and operated either manually or automatically. You have the option to do so, with the pros and cons going along with it.
You are given the flexibility and the freedom to choose whether you'd go for the manual method or the automatic.
Especially with thin metals, spot welding is the best option or method you can take. Unlike other welding methods, spot welding can help you in fusing different metal sheets and other metallic parts and components together easily – not only that but a stronger weld as well!
In the same context, spot welding is capable of welding multiple metals at a time, given that they're thin enough for it. So you can achieve better and faster results without exhausting too many resources.
Did you know that it's one of the fastest forms of welding when machines are being used? Yes, as a matter of fact, there are machines that can produce a total of 200 spot welds in just around 8 seconds. It's fast and it's absolutely reliable!
Akin to other types of traditional and conventional methods in manufacturing, spot welding is a type of welding process that does not require high-tech and advanced machinery. Instead, regular welding machinery can be utilized and it'll have the same results!
 In addition to that, you would not be required to spend more on fillers because it doesn't require one! It's overall an easy process and you can count on us here at Kentucky Contract Manufacturing Technicians to help you with it!
Choose Us For the Best Results
Deciding to work with us is like investing in your company or your business's future. As a matter of fact, we've been dubbed and labeled as the most dependable and the most reliable company when it came to welding and in metal fabrication and we never failed our clients with it.
You can count on us to help you not just in spot welding and in other types of welding, but with the overall process of fabrication from the design finalization, the cutting, the welding, the bending – and down to the finishing and even the assembly of the final product.
Kentucky Contract Manufacturing Technicians is the most relied on and the most dependent on the company in the industry, being able to service even the most complex and the most difficult industries – from the usual medical and commercial industries, to manufacturing, even automotive, and aerospace.
Your Business Partner
We are not just your typical contract manufacturers – we can be your complete business partner and affiliate able to help you with your need for procuring and producing semi-finished components, parts, and even equipment you need for your business.
Ask around the state about who you can count on when it comes to spot welding and most companies will point you to us here at Kentucky Contract Manufacturing Technicians. Not only will we be able to provide the best and the highest quality of welds – we can turn it over to you faster, too.
Have a quick chat with us and have an idea of how much you would need!
You will never really have to look for anything else with us here at Kentucky Contract Manufacturing Technicians! We're your complete-package, full-service contract manufacturer and metal fabrication company!
Our core offerings and services at Kentucky Contract Manufacturing Technicians includes, but is not limited to, the following below:
We service multiple cities throughout the state of Kentucky. We provide all the services listed above, and much more in every city throughout Kentucky.
If you don't see your city listed or a specific service listed, don't worry. All you have to do is contact us by either giving us a call or filling out our online contact form. Then we'll discover what are some of the top solutions for you, your business, and executing a solid solution.
See our city areas of service: