Press Braking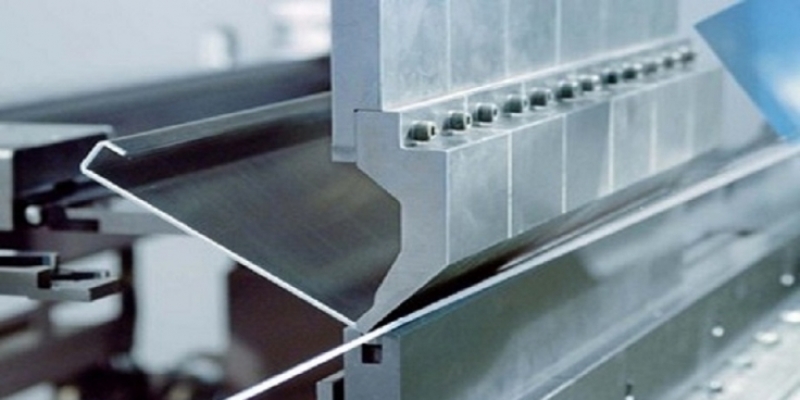 The process of metal fabrication would never be complete without press braking or the bending and the forming of the metal or the steel that is to be used in the project. Press braking is rather a complex and a diverse process because it does not only result in one (1) shape or form; manufacturers use this process to come up with even the most difficult and perplexing of shapes.
Press braking is a process that is merely done to help reshape, refigure, and reform a piece of metal to different shapes and sizes. If you need a manufacturer that can perform a wide and large scale of the spectrum of metal fabrication, you can work with us here at Kentucky Contract Manufacturing Technicians.
We are the state's top pick when it comes to press braking and we never let any of our clients down. We utilize computer-controlled numerical (CNC) press brake machines for better, faster, and a higher productivity rate whatever your parts, components, or the produced equipment are.
You Can Trust Us
Many people, companies, and businesses have trusted us, our skills, and our expertise when it comes to press braking. Our press brakes are highly durable and you'll be able to get your desired design, shape, and form without any hassle.
Companies from all industries and businesses have trusted us – from the medical industry, the construction industry, manufacturing – even the automotive and the aerospace industry. You can trust us the same way our previous clients have and we will always be prepared to provide the quality you need.
Benefits of Our CNC Press Braking
The idea of press braking has been initiated back in the late 1800s. It was back then when prototypes were made and formed – until it reached the point of what it is now. Compared to the different types of bending and forming metal, press braking has been one of the most used and methods and procedures mainly because of the following:
Accuracy and Durability – press brakes are less likely to break no matter how sharp or how thick the metal and the steel are;
Machine Operable – there are press brakes that can manually be operated or automatically be operated via CNC (what we use)
More Shaping Options – with a press brake, you're given the flexibility, as well as the freedom on the shapes and the forms you want your metal or your steel to take.
And Many More!
But with us here at Kentucky Contract Manufacturing Technicians, you can count on us and our CNC press braking machines to help you with a lot of things. Some of the advantages that you can receive in engaging with our CNC press braking machines are as follows.
Manual press braking processes and procedures would involve the skills and the expertise of machinists and press braking experts – and sometimes, even blacksmiths, too. But with our CNC press braking machines and procedures, everything is easier and better – from the formulation of the physicality and the design, and the execution of the process.
Since we utilize machinery that is controlled by pre-programmed computer software, our laborers can focus more in terms of the enhancement and improvement of the outputs and products that you are looking to complete.
Our productivity rate is heightened and it's going to be for the betterment of your business or your production.
Because our machines rarely need the supervision of operators, machinists, and experts, we have less cost in terms of operating it. In turn, you will pay less with the procedures and the operations we are going to make.
Our CNC machinery is easy to operate and it's going to be for the better and the higher quality of your production. With easy-to-operate machinery, we can guarantee more products and outputs with fewer errors and mistakes.
Unlike manual operations and press brakes, whenever you want to change the design or the overall outlook of your product, we can easily do so – especially with our CNC press brakes.
Don't worry, we at Kentucky Contract Manufacturing Technicians have our own mechanical engineers and experts so should you have the need to change or modify the look or the design of your product, we can easily do so.
Why Choose Us?
We are just one of the few manufacturers and metal fabrication experts that utilize CNC in most of our procedures and mechanical processes. We believe that with the help of advanced and modern technology, we are able to perform better, at a faster rate, and provide you with accurate and precise results with the products and the outputs that you need.
Kentucky Contract Manufacturing Technicians is the best company/manufacturer you will ever work with and we will never make you feel disappointed and disregarded. We'll get you the products and the outputs you need in the fastest and in the most efficient timelines possible.
Working with is something that most companies and businesses choose not just because of the high quality of products, but also because:
They get to see the products that they want and that they're desiring
They don't pay for a fortune for the high quality of products and outputs we provide them
We're a company that does not only specialize in press braking
You will love to work with us again for other types of services and products you need
Contact Us at Kentucky Contract Manufacturing Technicians Now!
Do you require the assistance of an expert press braking company? Are you looking to outsource the production of a certain part, material, or component? You can never go wrong in choosing us here at Kentucky Contract Manufacturing Technicians the same way other companies have not.
Give us a dial and we'll help you with the estimate and the quotation that you need for the production of your parts and components! Work with the company that can bring you world-class quality products and outputs you are looking to be created!
You will never really have to look for anything else with us here at Kentucky Contract Manufacturing Technicians! We're your complete-package, full-service contract manufacturer and metal fabrication company!
Our core offerings and services at Kentucky Contract Manufacturing Technicians includes, but is not limited to, the following below:
We service multiple cities throughout the state of Kentucky. We provide all the services listed above, and much more in every city throughout Kentucky.
If you don't see your city listed or a specific service listed, don't worry. All you have to do is contact us by either giving us a call or filling out our online contact form. Then we'll discover what are some of the top solutions for you, your business, and executing a solid solution.
See our city areas of service: