MIG Welding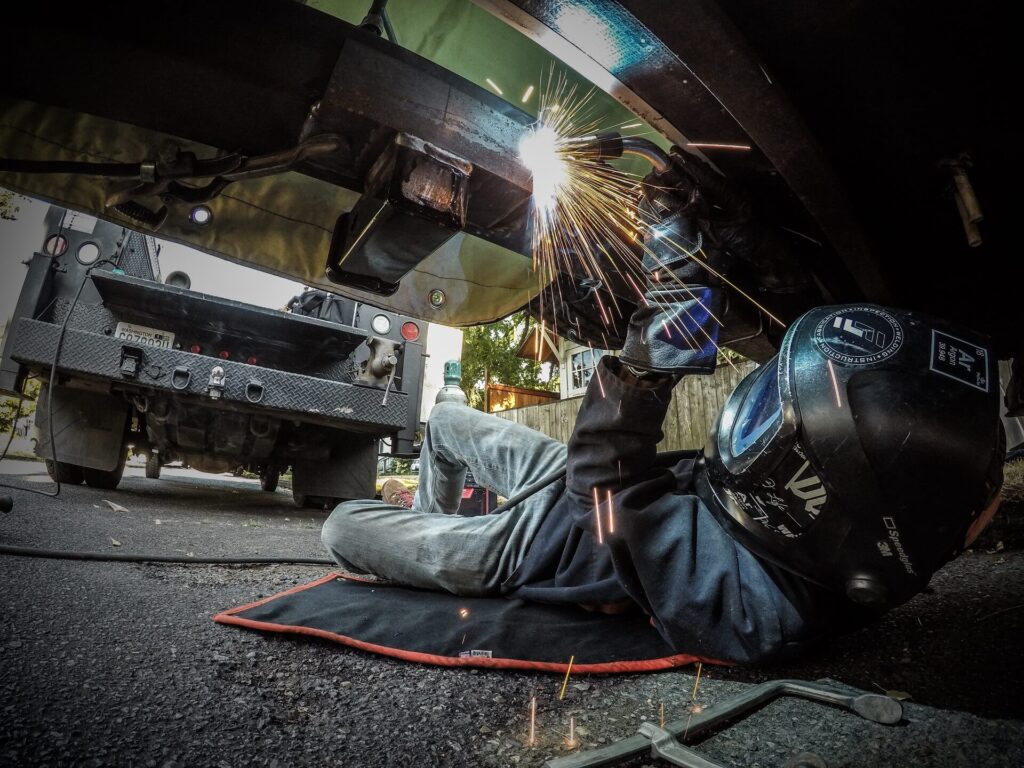 Welding is one of the most crucial and the most critical processes in manufacturing and in the metal fabrication industry. Not convinced yet? – Well without welding, no two parts would be welded and fused together.
The process of welding is important because it's what combines and fuses two parts together – for instance, the side-body of the car connected to the roof is a product of welding. Without it, the pieces or the parts would fall and would not hold to serve its purpose.
There are a lot of different types and kinds of welding – and the most common would be the Metal Inert Gas (MIG) welding. What MIG welding is quite a complex and a complicated thing to talk about – but we here at Kentucky Contract Manufacturing Technicians will definitely help you in understanding what it is and why it's the best and the most common type of welding.
How Does MIG Welding Work?
MIG is also known to be the gas metal arc welding (GMAW) and it is the process of using an electric arc – creating the heat that is used to melt and join the metals together. In MIG welding, a power supply is created so that the electrode is activated, making the entire welding process work.
Other than MIG welding, there are other types of welding including:
Stick Welding
TIG or Tungsten Inert Gas Welding
Gas Welding
Plasma Arc Welding
Spot Welding
And Many More
We here at Kentucky Contract Manufacturing Technicians use MIG most of the time because we believe that it is the most efficient and effective type of welding strategy. Other than the fact that it's the most common type of welding procedure, MIG welding also has the following advantages over other types of welding.
The Advantages of MIG Welding
The most common reasons why MIG welding is considered as the best type of welding technique is because of these:
Since it's dubbed as the most basic and the best type of welding, MIG welding is a skill that is considered by many people to be the easiest and the simplest to learn. Even if you have a little-to-no background and you want to do welding, you can easily do it within a few hours.
As a matter of fact, professional MIG welders are calling the process to be direct and straightforward without anything complicated in between.
Unlike some other types of welding, MIG welding utilizes a shielding gas to secure and protect the arc. This allows minimal loss of alloy and other alloying elements in the entire welding process resulting in fewer and even no slag to remove and a lot more efficiency in work.
However, in order for you to protect yourself and the project you're working with, MIG welding devices would need to be cleaned when dirt has caught up in the shield – and it's certainly an easy process!
It's also known to be a fast type of welding because it has a faster time in melting the products or the workpiece!
All the welders and the welding gurus we have here at Kentucky Contract Manufacturing Technicians have mastered the art of MIG welding to the point that they know how they can be more versatile in working with many different projects in a day – and more flexible in terms of working on many types of products and outputs.MIG welding can be ticked and toggled to be either semi-automatic or to be a fully-automatic.
In addition to that, MIG welding has been made and designed to weld a wide range of alloys, metals, and steels including the following:
Copper
Nickel
Mild Steel
Stainless Steel
Magnesium
Aluminum Steel
And Many More
Why You Should Trust Us?
Other than our expert and professional welders, we at Kentucky Contract Manufacturing Technicians are also the company that you can count on fully when it comes to the overall manufacturing and metal fabrication processes you have.
We are known and considered to be the best and the most reliable manufacturer in the state and our work with our previous clients can prove that.
Our skills vary in a lot of different industries and you can count on us to produce even the most complex and the most comprehensive of items that you need. Being expert welders and welding experts, you can definitely count on us to produce the strongest, the sturdiest, and the most durable welds you will ever experience.
We Work With All Industries!
What type of industry or business are you in? Do you think it's too complicated for us to create the components and the parts that you need? Think again! With our MIG welding expertise, we can weld and fuse whatever you need – from the regular plain and formed sheet metal, rolled sheet metals, and even aircraft cabins and doors, car bodies, MRI equipment, and many more!
Can other companies have the same flexibility as we have? Are they capable of providing the same level of expertise and knowledge we do in all our services? And most importantly, can they prioritize you and your business needs?
One of the best traits that we have is that we can manage our time and our projects in the best ways possible – we can realign the priorities that we have, making everything in the same shade as everyone else!
We Are All You Need
It may sound cliché but we here at Kentucky Contract Manufacturing Technicians are everything you need – from your regular cutting procedures, the wide range and types of welding, and bending – down to the complete metal fabrication process.
Never will you experience anything bad when you work with us! Everything is full of positivity and all the materials and components you need to be welded will be given to you in the timeliest manner – as well as in the highest of quality possible!
You will never really have to look for anything else with us here at Kentucky Contract Manufacturing Technicians! We're your complete-package, full-service contract manufacturer and metal fabrication company!
Our core offerings and services at Kentucky Contract Manufacturing Technicians includes, but is not limited to, the following below:
We service multiple cities throughout the state of Kentucky. We provide all the services listed above, and much more in every city throughout Kentucky.
If you don't see your city listed or a specific service listed, don't worry. All you have to do is contact us by either giving us a call or filling out our online contact form. Then we'll discover what are some of the top solutions for you, your business, and executing a solid solution.
See our city areas of service: