Press Brake Machine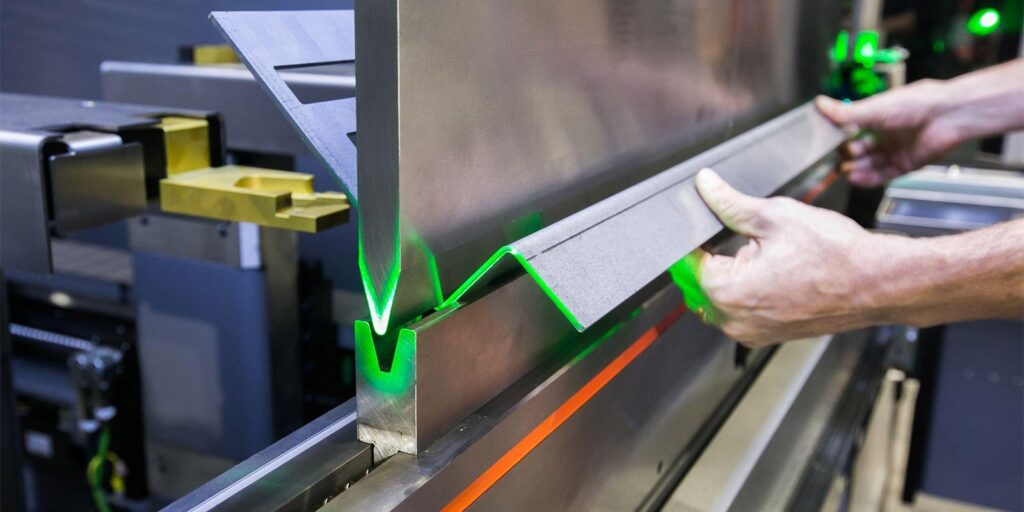 The many advancements that the manufacturing industry has since provided changed a lot in the industry – from the amount of work to the effort in finding and in getting the best and the most experienced, laborers, to the many different types of processes involved.
Before press brake machines were used, the process of forming and molding metal involved skilled and strong laborers, a ball-peen hammer, the mold of the material either in a forming bag filled with sand – and the process is that the metal sheet or the steel will be pounded in order for it to take the shape of the mold.
First Machines
The first versions of the press brake machine we now know are not necessarily in the same shape and type than what was created and invented before. The first of these now press brake machines were manually operated and utilized leaf forcing the clamped metal sheet to be formed and bent to a straight line.
It was a tedious process and dangers were involved, giving birth to the operating press brake machines we now know of. From the manually-operated machines to the computer numeric controlled (CNC) press brake machines, they all have one goal – to form, shape, and bend steel.
Do you have a business and you're looking to outsource the production of some steel and metal? Work with us here at Kentucky Contract Manufacturing Technicians for we have the best and the most advanced CNC press brake machines that we can use to help you in forming and in producing your product.
Our Investments
Throughout our entire experience in serving and in providing different services for our clients who need metal products and outputs, we have invested a lot of things in terms of the knowledge, skills, expertise, as well as the equipment we utilize in different metal fabrication procedures and processes that we do.
These investments are what brought us to the position we are in now in the industry – the most trusted and the most relied on manufacturer and metal fabrications company. With our help, companies and businesses have been able to produce and assemble the needed equipment, parts, and components they have needed.
Industries We Service
We are the company that has provided all our clients with the products, outputs, and components they needed – from simple enclosures, boxes, medical equipment, construction equipment – and even other manufacturing components.
Our flexibility and versatility of work range from commercial, industrial, even in the aerospace industry to the structural industry. You can work with us if you are part of any of these industries:
Medical Industry to Produce Medical Supplies and Equipment
Construction and Structural Industry
Manufacturing Industry (Outsourcing and for the use of types of machinery)
Automotive and Aerospace Metal Fabrication
Shipbuilding Industry
And Many More
So whatever industry you work in, our expertise would be fit for what you need!
Why Clients Trust Us
Whenever any of our clients look into outsourcing their needed and their required materials, parts, components, and elements, they contact us to work with them through the provision and the creation of those parts.
For many projects, clients looked at us as their go-to company whenever they needed help in the production of certain goods. We're their favorite because of the following traits and values:
Your work is safe with us – we will always make it to a point that we deliver whatever you need indefinitely. Whatever type of product, component, part, or material you need, we can produce it for you in the time you need.
Though you think your product design is not at par with what the demands of your clients and your customers are, we here at Kentucky Contract Manufacturing Technicians can help you with the creativity and the sense of innovation that all our workers, engineers, and all our professionals have.
All our clients loved their experience in working with us for we never strayed from the path of professionalism and expertise. All our workers and our staff work with the utmost professionalism; you will never experience any negative type of work with us!
You wouldn't find the level of professionalism that all our employees and our personnel have with other companies.
The transparency in terms of how much you need, when it will be completed (in the most feasible time), and how it can be produced in the most cost-effective and the most efficient ways are the keys to the path to your production's success.
Honesty is an undermined trait – not many people value it and think of it only as a virtue. However, honesty and transparency can go a long way and it can be the only thing you need in finding the best contract manufacturer and metal fabrication company you need for your business.
We're Considered the Best in the Industry
Across the entire state of Kentucky, we at Kentucky Contract Manufacturing Technicians have been considered as the best and the most reliable company in the industry, capable of providing a web of product lines and outputs you need.
If you only need help through our advanced and high-tech CNC press braking machines – or if you need us to fabricate a metal part, component, equipment, or part, you can absolutely count on us!
Within our agreement, we'll be able to help you in terms of the production of whatever you need. Whether you need regular rolled and sheet metal, formed sheet metal, or if you need a much more complex and complete part, our teams of engineers and experts will always be happy to work with you.
We Work Differently
In contrast to how contract manufacturers and metal fabrication companies work, our process in helping you with the forming and the shaping of your metal will involve less human interaction and more machinery; guaranteeing the highest quality of the products and the outputs you need.
Dial us and we'll send you the accurate and the precise estimate of the products and outputs you need!
You will never really have to look for anything else with us here at Kentucky Contract Manufacturing Technicians! We're your complete-package, full-service contract manufacturer and metal fabrication company!
Our core offerings and services at Kentucky Contract Manufacturing Technicians includes, but is not limited to, the following below:
We service multiple cities throughout the state of Kentucky. We provide all the services listed above, and much more in every city throughout Kentucky.
If you don't see your city listed or a specific service listed, don't worry. All you have to do is contact us by either giving us a call or filling out our online contact form. Then we'll discover what are some of the top solutions for you, your business, and executing a solid solution.
See our city areas of service: