Laser Cutting Design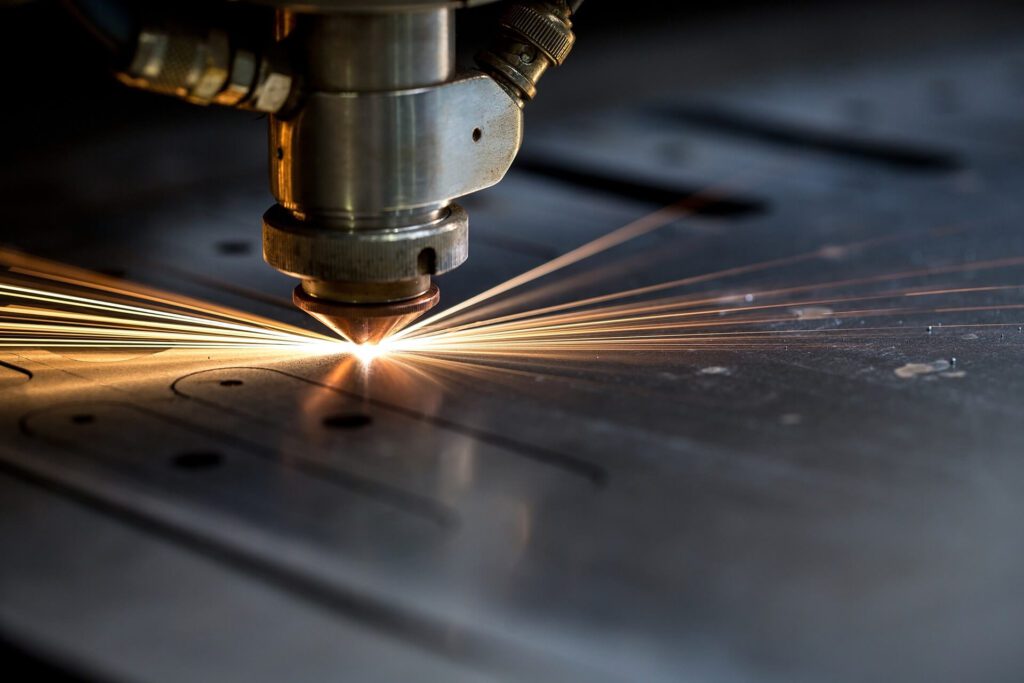 When you need something cut – can be metal, steel, wood, even plastic, you can resort to laser cutting to get things done quickly and urgently. In laser cutting, you need a design or a pattern that the laser cutting machine would need to recreate in order for the laser cutting machine to accurately follow the shape and the aesthetics of the material, product, or component.
If you need the best and the most reliable laser cutting design done, you can count on us here at Kentucky Contract Manufacturing Technicians. Though we only perform metal and steel cutting procedures, we can give you the guarantee that we'll be providing only the highest and the most accurate quality because our skills and our overall expertise are focused on that.
Precise and Accurate Outputs and Products
One of the main advantages of laser cutting over conventional and traditional cutting methods and procedures is its accuracy. And why is it accurate? – Because of the fact that it has laser-cut designs that the cutting machines would follow.
The designs are to be followed and sculpted religiously to avoid any type of problem or difference with how the client wants a certain piece to be done. With the laser cutting design we have here at Kentucky Contract Manufacturing Technicians, you'll never regret your decision working with us.
How the Laser Cutting Procedure Goes
So how does the whole laser cutting process go? What steps are involved and when is the design inculcated in the program? There are manually-operated laser cutting machines as well as computer numerical controlled or CNC.
If you deal with the former, you'll rely on the operator's skills for it to be precise and accurate. If you utilize CNC laser cutting machines, you only need pre-programmed software for it to operate. The whole process goes:
Finalizing the Design – the design needs to be created and finalized and it needs to be saved as a vector file.
The pattern or the program is loaded to the machine or the operator needs to be skilled in doing the entire process or procedure.
Depending on the complexity of the design, the process could take days, weeks, and even months.
Overall, the entire laser cutting process is simple – although it needs a few complex and comprehensive designs, it would be rewarding, to say the least.
Why You Need Laser Cut Designs?
But why do you need laser cut designs? How can this be more helpful, effective, and beneficial to your overall metal fabrication or contract manufacturing processes? Here are some of the main uses and benefits of having laser cut designs.
When you work with us here at Kentucky Contract Manufacturing Technicians, you just need to have a laser cut design ready and we can do the work for you from there. If you're not able to create the design yourself, you can also ask us to help you in designing it!
We can be, overall, your trusted manufacturer when it comes to the creation of designs and patterns in laser cutting. Whatever pattern that might be, we can assure you that it will all be uniform and the same.
Imagine having a specific design – how fast and how better would it be for your productivity? A laser cutting design is like a template that the machines would be working with. It can be greater support for the entire laser cutting process, eliminating the need for a more comprehensive procedure.
Produce larger amounts of goods and products and never worry about your productivity! Especially when you work with us, you will get only the best and the highest quality of outputs, components, and materials!
With laser cutting, you can achieve better and faster outputs and production because it does everything fast and urgently. The power of laser cutting has been proven in several businesses and industries – from the commercial, industrial, manufacturing, medical, automotive – and even the aerospace industry, laser cutting has become a need.
So if you need to produce your components, materials, parts, and fabricated goods at a faster rate, go with our laser cutting procedure!
Our Reliability
Many companies and businesses have relied on us for the production of the needed goods, materials, and components they have. From the most basic of parts and raw materials like sheet metal, polished rolled steel, to regular entrapments and enclosures, boxes, brackets – to the most complex and most comprehensive of aerospace vehicles and parts, you can count on us!
Part of our values is our reliability – and that is part one of the main reasons why we've become the most dependable and the most trusted contract manufacturer, metal fabrication experts, and laser cutters in the entire state of Kentucky. When you need a manufacturer or a fabricator – they'll point you to us here at Kentucky Contract Manufacturing Technicians.
Why Should You Work With Us?
There may be a lot more other manufacturers who can offer or even offer more than what we do but when you work with us, you will never experience any type of hardship or challenge. We'll always be ready and prepared with what products, outputs, parts, or materials you need to be done.
When you work with us, not only will you be able to get whatever materials, products, or components you need fast – you will also get them in the highest quality you could ever get.
You can say goodbye to the costly and slow processing that other companies and manufacturers are making; we're the best and the most trusted contract manufacturer in the league. Work with us and stop experiencing negative results with what you need to complete – experience nothing but world-class quality services with us!
Give us a quick call and we'll send you an estimate of all the services, the types of products, and the projects you need to be done. Kentucky Contract Manufacturing Technicians can be your go-to company for all your needed materials, components, parts, and even equipment!
You will never really have to look for anything else with us here at Kentucky Contract Manufacturing Technicians! We're your complete-package, full-service contract manufacturer and metal fabrication company!
Our core offerings and services at Kentucky Contract Manufacturing Technicians includes, but is not limited to, the following below:
We service multiple cities throughout the state of Kentucky. We provide all the services listed above, and much more in every city throughout Kentucky.
If you don't see your city listed or a specific service listed, don't worry. All you have to do is contact us by either giving us a call or filling out our online contact form. Then we'll discover what are some of the top solutions for you, your business, and executing a solid solution.
See our city areas of service: