Press Brake Bending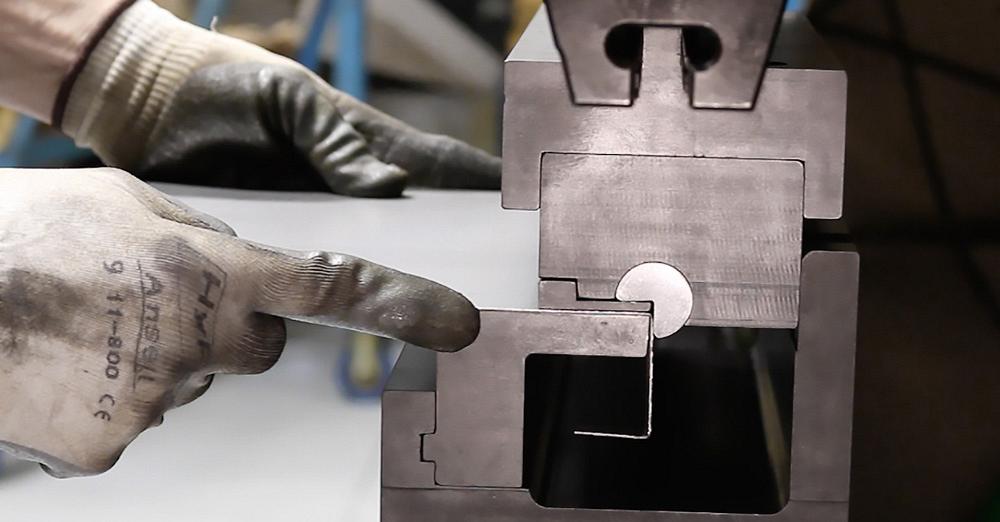 Can you imagine how metal and steel were bent and formed before the invention of the types of machinery and the equipment that we have now? Can you think about how much of a hassle it was for previous builders, manufacturers, and metal fabricators to bend and form the shape of the steel or metal in the ways they wanted?
When the first-ever press brake was patented in the year 1882, it took everyone by surprise – they never expected that a machine this great can accommodate to their needs. But what is a press brake?
For all people who are not in the know, a press brake is a machine that is used and utilized to form and bend metals and steels to take the form that the manufacturer wants and needs. Press brake bending is actually one of the processes in metal fabrication and it's done in the early stages.
Not a lot of companies and manufacturers perform press brake bending because of the newer technologies – but if you need help when it comes to this process, you can count on us here at Kentucky Contract Manufacturing Technicians.
We are the contract manufacturers who are able to help you with anything from the traditional ways and processes of metal fabrication, to the advanced and the newer ways of doing so.
What Shapes Can Press Brake Bending Form?
Press brake bending can form and shape a lot of different metals into different shapes and sizes. Some of the most common shapes that form include:
V-Shape or V Bottom
Channel
Offset
Wipe Die
90-degree rib bend or form
Radius
Whatever shape you need, you can count on us here at Kentucky Contract Manufacturing Technicians to help you with it. We're your all-in-one metal fabrication company skilled and able to perform whatever bend or form you need.
Materials We Can Work With
The usual things that press brakes can accommodate range from any type of material – from the softest of plastics, wood, to the hardest of steel, metal, and rocks. But with us, we're only adept at working on different types of steel and metal.
You might think of our skills to be limited but in reality, we have mastered and perfected the craft of press brake bending to the point that you'll never worry about anything in the entire process.
More often than not, the common materials we work with include:
Mild Steel
Stainless Steel
Bronze
Nickel
Aluminum Steel
Brass
Hot Carbon Steel (Rolled)
Cold Carbon Steel (Rolled)
And Many More
So long as it's metal and you need to have it bent and formed in various ways, you can count on us.
Why Press Brake Bending?
There are a ton of different alternatives to press brake bending like welding, panel bending, steel and metal folding, and the like but why go for press brakes? What can the press brake bending process do that the other procedures and methodologies don't?
With the natural characteristic of press brakes to be versatile, you wouldn't have the problem of working with it and with us here at Kentucky Contract Manufacturing Technicians. We're press brake bending experts and we can help you even with the thickest type of sheet metal our machines can accommodate.
Since press brake bending requires only the machine for operations, there wouldn't be a problem even when you outsource this specific service. It can help you with a lower initial cost and you would never be burdened with its maintenance.
Most of the press brakes that are sold today – and the press brakes that we use are all computer numeric controlled or CNC. This basically means that they're controlled by a computer and that little-to-no interaction or operator supervision is needed.
With it, press brakes can produce an exponentially large number of products in just a short span of time.
Our Different Style and Approach
We at Kentucky Contract Manufacturing Technicians are the most trusted metal fabrications company in the entire state of Kentucky. We're not just your best company when you need help with press brake bending – we can also help you with a ton of different services and processes too including:
Metal and Steel Cutting
Cold and Hot Steel Rolling
Different Types of Welding
Product or Output Finishing
Assembling of the parts and components
The approach that we have goes over and beyond the regular expectation of our clients – giving the best and the highest quality of bends and forms of metal and steel.
When you work with us, you can count on our unorthodox, yet effective and efficient approach.
Need a Reliable Metal Fabrication Company?
Should you find yourself in a situation where you need a company that you can work with in terms of outsourcing your press braking production, we at Kentucky Contract Manufacturing Technicians are the company you can count on.
You'll never regret your decision of choosing us and working with us and that would show with the initial procedures we will undertake for your production.
Whether you're in a common industry utilizing steel and metal – or if you need help when it comes to the entire metal fabrication and manufacturing process, we're your man for it. Our world-class quality production strategies and skills will conspire to help you achieve the best, the highest, and even the greatest quality of the products or the outputs you need.
Not sure about how you can perform press brake bending in your manufacturing firm or company? Work with us here at Kentucky Contract Manufacturing Technicians and we will help you with it accordingly.
Fast Turnaround Time
Work with us and expect the outputs and the products to be produced swiftly and urgently – we'll never make you wait! We'll even perform final inspections before we send and deliver your needed products to you, keeping you from the hassle and the troubles of low quality or the malfunctioning of the parts and components.
You will never really have to look for anything else with us here at Kentucky Contract Manufacturing Technicians! We're your complete-package, full-service contract manufacturer and metal fabrication company!
Our core offerings and services at Kentucky Contract Manufacturing Technicians includes, but is not limited to, the following below:
We service multiple cities throughout the state of Kentucky. We provide all the services listed above, and much more in every city throughout Kentucky.
If you don't see your city listed or a specific service listed, don't worry. All you have to do is contact us by either giving us a call or filling out our online contact form. Then we'll discover what are some of the top solutions for you, your business, and executing a solid solution.
See our city areas of service: