Sheet Metal Rolling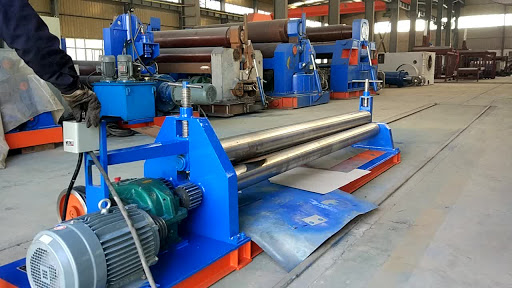 Have you ever wondered why most manufacturers and fabricators decided to roll metal sheets? What difference did rolled sheet metals have over regular, flat-surfaced sheets? As peculiar as it may seem but sheet metal rolling was actually coined and done even in the earliest of the 15th and 16th centuries.
Early professional metal workers and blacksmiths found that it's easier to mold and form metal when it is rolled compared to when it's flattened out. In fact, they figured that when sheet metal was formed and it was struck and pounded by hammers, it was easier to form and to produce many different types of products.
Rolling Mill
Even back in the early days of Science and metallurgy, the rolling mill was used and its main essence is to form and roll sheet metals. Soon enough, the demands for rolled metal grew, and there needed to be innovative machinery that would be able to produce more metal rolls than how they did with their regular milling machines.
Time passed and the technology grew and advanced – and suddenly more and more innovations and inventions came.
Now, there is a widespread production of rolling types of machinery – both manually and automatically operated. And with us here at Kentucky Contract Manufacturing Technicians, we can help you with the sheet metal rolling you need.
What You Could Need Rolled Metal Sheets For?
A wide number of industries and businesses are in need of rolled sheet metal – can be hot rolled or cold rolled and it can be for varying reasons. Some of which may include:
To form as a base of a certain metal product or component
For easier and better metal forming
For a more precise and accurate production of equipment
And Many More
Nevertheless, the demand for rolled metal sheets grew – and it's not coming to a stop. Every day, companies are looking for manufacturers and fabrication companies that can help them with efficient and effective sheet metal rolling processes and procedures.
Hot Rolled Steel vs. Cold Rolled Steel
What difference does hot rolled steel have over cold rolled steel? Does it have an impacting affect on the final output or product? It actually does and if you're not too sure what you need to get – don't worry, we'll help you.
Even in the earlier days, sheet metal rolling was performed in higher-than-the normal temperatures because it's easier to be rolled when it's hot. Then, it's cooled without the use of cooling agents. Hot rolled steel is often more used when it's durability and strength is the priority.
In addition to that, it is a lot cheaper for you to create and to produce hot rolled steel than cold rolled steel, too. Some of the uses for hot rolled steel include:
Railroad Tracks and Car Parts
Shelves, Gates, and Doors
Construction Supplies and Components
Making of Trucks
Tubing and Piping
Equipment Making
Cold rolled steel, on the other hand, is just typically a new process in rolling steel. As opposed to hot rolled steel, the price that you would have to pay when you choose to roll steel coldly would be slightly higher.
The process utilizes cold and cooling reduction mills wherein the materials are cooled over in the process. When it gets cooler, it gets thinner, making it more susceptible to being already finished.
Not only that, although cold rolled steel is typically more expensive than hot-rolled sheet metal rolling, it would also greatly help you in saving money because cold rolling steel would not anymore really need surface finishing as the surfaces of cold-rolled metals would already be smoothened out.
Some of the uses and products that you can use cold rolled steel for includes:
Furniture and Architectural Designs
Metal Containers
Structural Equipment and Components
Home and Kitchen Appliances
Frying Pans
And So On
We're the Best
Across the entire state of Kentucky, we're the most trusted company because of the virtuous values and traits we have when it comes to manufacturing and fabricating rolled metals.
Reliability and Dependability
Kentucky Contract Manufacturing Technicians commits to be reliable and dependable whenever you need help when it comes to metalworking. You have the dedication that we will be accommodating everything you need.
Speed and Urgency
Kentucky Contract Manufacturing Technicians promises to produce all of the needed materials and components for your project or your business in the fastest and the timeliest manners possible – without, of course, compromising the quality and the overall standard of the outputs.
Cost-Efficiency
Kentucky Contract Manufacturing Technicians promises to find the best and the most reasonable rates for the materials and raw items you need in the metal fabrication process you're requesting. We would tap all our connections and our networks to help us in the making and the manufacturing of what you need.
Honesty and Transparency
Kentucky Contract Manufacturing Technicians are committed to staying true to our word without the dirty of making erroneous acts towards our project. We shall provide only the best and the most accurate prices, results, and the qualities of the outputs you need.
The Best Sheet Metal Rolling Company
Over our experience, we have been able to produce the best-rolled sheet metals for our clients – whether hot or cold rolled. We have adopted a lot of different strategies and techniques when it comes to rolling sheet metals and steel, making us skilled and knowledgeable in terms of many different procedures and processes.
Should you need a company that you can trust when it comes to the steel and metal fabrication industry, you can trust none other than us here at Kentucky Contract Manufacturing Technicians. Not only are we experts in sheet metal rolling – you can work with us in a wide range of metal fabrication processes and services, too.
Dial us and ask for a quote or estimate of the production you need – and see world-class service at the cheapest and the most reasonable rates.
You will never really have to look for anything else with us here at Kentucky Contract Manufacturing Technicians! We're your complete-package, full-service contract manufacturer and metal fabrication company!
Our core offerings and services at Kentucky Contract Manufacturing Technicians includes, but is not limited to, the following below:
We service multiple cities throughout the state of Kentucky. We provide all the services listed above, and much more in every city throughout Kentucky.
If you don't see your city listed or a specific service listed, don't worry. All you have to do is contact us by either giving us a call or filling out our online contact form. Then we'll discover what are some of the top solutions for you, your business, and executing a solid solution.
See our city areas of service: