Steel Bending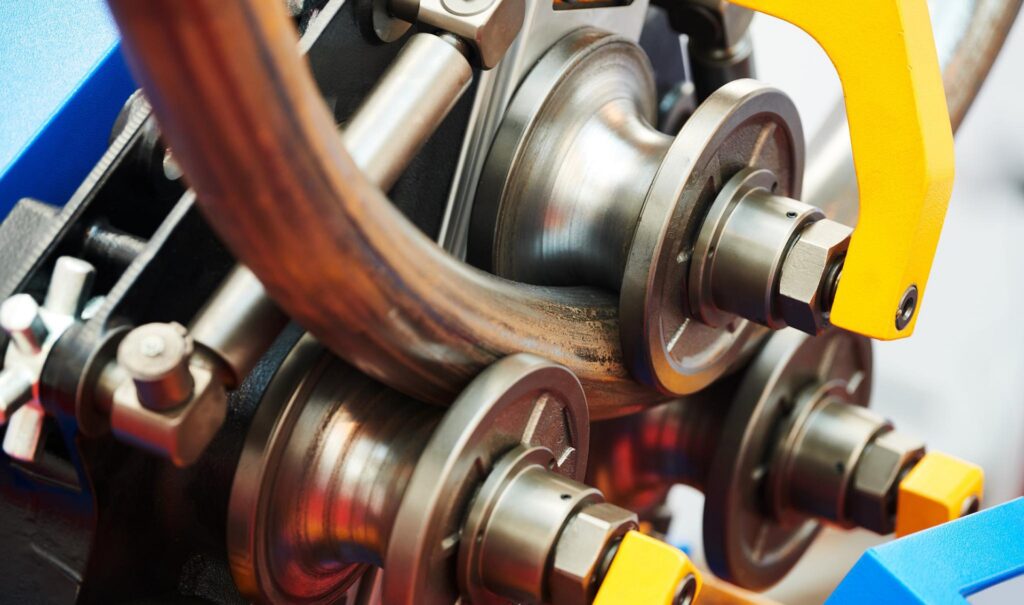 Bending metal or steel is an integral part of metal fabrication and manufacturing. It has been considered as one of the most important parts of the process with the reason that it's what brings a certain part or component alive.
Imagine steel bending done manually – yes, by using raw and regular metal and steel and pounding it ball peen hammers with the shape of the mold of how the desired design and physicality would be formed, how hard and difficult do you think it would be?
Work with us here at Kentucky Contract Manufacturing Technicians and be free from the constant worry of finding the company that you can work with in terms of the different types of processes and procedures in steel bending – and even whatever metal fabrication process you might need? It could be a mess, and it can just worsen some things.
If you have this dilemma, it's no doubt that you need to work with us. Not only would we be able to help you with whatever types of metal and steel bending you need, but we can also produce it at a faster rate too with the best and the highest quality it can be.
Tailored Metal and Steel Bending
We at Kentucky Contract Manufacturing Technicians are your full-service, complete-package fabrication, and manufacturing company that is capable of providing a wide range of metal and steel bending for the specific need you have.
You can count on us to help you in bending sheet metals, pipes, tubes, beams, channels, and many more. Even if you think that your prototype or your designs and sketches are hard to produce, we would mix our specialty and our expertise and we will provide you with the final output you wish and desire to see.
What We Can Do For You
We're not just your typical manufacturing and fabrication company, we can also help you with a lot of things when it comes to the metal parts and components you need for your equipment. As a matter of fact, you can count on us to help you with a lot of things that include:
If you're feeling slightly unconfident about how some of the parts and components you have are, we have a team of inspectors, engineers, and metal fabrication experts who can assess and evaluate the overall quality of your metal parts and components.
You would never have a single doubt about your parts when you get us to check on it!
Are you getting tired of all the fuss when you find the supplier who would be able to accommodate all the materials and parts you need? Don't worry, we have our own web of networks and connections and we can be the one to find the best supplier and vendors for your use.
Going around the market in search of the best and the most compatible vendor and supplier is not only frustrating – but it's also a waste of time. Save time and money in doing so by working with us! We will connect you to the best ones in the market and you will never have any type of problem with it!
Our superiority in the area and the procedures of steel bending has greatly brought our name and our brand at the top of the manufacturing and the fabrication industry in the state. All businesses, contractors, and even construction companies in Kentucky call for us whenever they need help in the creation of metal components, elements, and parts for their projects.
There was never a time when we denied a client while they were thirsty for help, support, and assistance. As long as we're able to help you, you can count on us!
Why Choose to Work With Us?
Other than the extra services and a lot of the activities we can do for you – why would we the best choice and option for the metal fabrication process you need? With Kentucky Contract Manufacturing Technicians, your business will be in the best hands.
With our engineers and our expert machinists having more decades of experience, we were able to help tons of different clients with what they needed even if the industry is deep and is filled with relevant and intricate knowledge.
Work Flexibility
If you think we're not able to perform specific to your industry, think again. We had clients run in from many different industries and businesses and we never failed them with what they needed. Whether you need specific parts and bends for your car parts and automotive, or if you are looking for aircraft cabins, we're the best you can work with.
Cost-Effective
Where else would you be able to find a manufacturer and a fabrication company charging you for the least amount of money you can pay? Only with Kentucky Contract Manufacturing Technicians will you experience reasonable prices and costs and still get the best type and quality of products and outputs.
Need urgent help? Give us a dial and we will send you the quotation or the estimate you need and that would be specific to what we will be billing you. Expect world-class quality services with no hidden fees and charges involved – only quality production and manufacturing.
We at Kentucky Contract Manufacturing Technicians consider relationships to be the foundation of all good businesses and our mind is on it. Allow us to be the company you can fully depend on if you're looking to:
Maintain and keep your brand and company advantage
Save in terms of the cost of your production or your project
Widen the network or the connections you have
Work with a world-class quality company
Kentucky Contract Manufacturing Technicians is the sole company capable of working with a wide spectrum of businesses and industries while keeping the orders and the products specific and accurate to what you need.
You will never find a company as good as us wherever you look! Work with us and get a chance at our steel bending expertise!
You will never really have to look for anything else with us here at Kentucky Contract Manufacturing Technicians! We're your complete-package, full-service contract manufacturer and metal fabrication company!
Our core offerings and services at Kentucky Contract Manufacturing Technicians includes, but is not limited to, the following below:
We service multiple cities throughout the state of Kentucky. We provide all the services listed above, and much more in every city throughout Kentucky.
If you don't see your city listed or a specific service listed, don't worry. All you have to do is contact us by either giving us a call or filling out our online contact form. Then we'll discover what are some of the top solutions for you, your business, and executing a solid solution.
See our city areas of service: